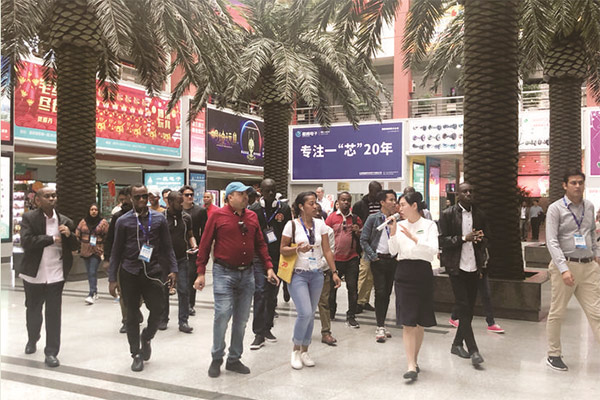 "We only walked for a while, and we were shocked by the number of stores and the exquisite products here." Yesterday, when Masuda from Japan visited the first district of Yiwu International Trade City, he expressed his feelings.
Yesterday morning, nearly 70 foreign media representatives who participated in the first Zhejiang International Friendship City Media Cooperation and Communication Forum came to Yiwu International Trade City to experience the development achievements and unique charm of Yiwu. Delegates watched the Yiwu promotional video at the west gate of the first district of the International Trade City, and went deep into each store to experience the unique Yiwu business culture. Delegates from time to time picked up a piece of merchandise and watched it from time to time, and from time to time they gave praises. In front of some exquisite crafts, they frequently stopped to take pictures.
"It's too big here, I feel like I can't finish the day." He Liping from Malaysia Singzhou Daily said with emotion, "If I come here as a businessman, I will feel that there are business opportunities everywhere. As long as you can think , You can buy them here. "
Representatives took pictures with the national flag of their country when they visited the Import Commodities Museum in the 5th district of the International Trade City, and some representatives improvised shopping.
It is reported that the first Zhejiang International Sister Cities Media Cooperation and Communication Forum aims to enhance the communication and exchange between Zhejiang and overseas sister cities' mainstream media, establish long-term relations, mutually beneficial and win-win cooperative relationships, and promote friendship and friendship for more practical results . At the same time, the representatives will also go to Hangzhou, Wuzhen, Ningbo, Pujiang, Shaoxing and other places to carry out "beautiful Zhejiang" media gathering activities. Yesterday afternoon, various delegates left Yiwu for Pujiang to experience the scenery and development achievements of Pujiang.
---
Post time: Mar-05-2020