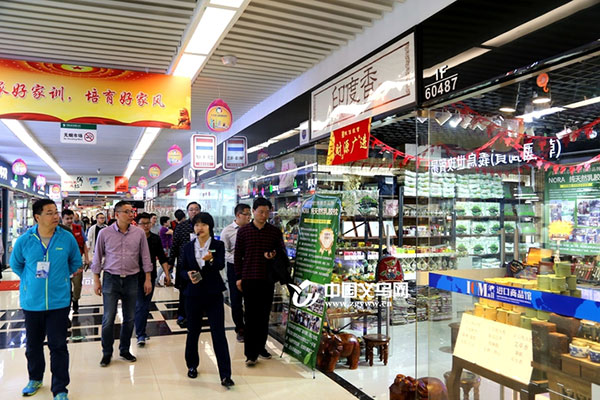 This (April 23) afternoon, hosted by the Central Cyberspace Office, Zhejiang Cyberspace Office and Yiwu Municipal Party Committee Propaganda Department (City Cyberspace Office), network celebrities to help the "Belt and Road" strategic theme activities continue to be held in Yiwu. More than a dozen Internet celebrities have visited Yiwu Urban Planning Museum, International Trade City, and Qingyan Liucun, "the first village of China's online shop," to experience the new changes, new opportunities, and new developments brought by "One Belt One Road" to Yiwu.
The market is the lifeblood of Yiwu. Since the reform and opening up, Yiwu has always adhered to the development strategy of "building a business and building a city" and successfully embarked on the international fast track with the concept of "buy the world and sell the world". Today, relying on the "Belt and Road" national strategy, Yiwu's market innovation is advancing steadily, and its development engine is continuously strengthened. Emerging industries, e-commerce, and new business models are gradually emerging. Accelerating online and offline integration, import and export interactions, domestic and overseas connections, new market formats are booming, market products are moving towards mid-to-high end, and market procurement and trade methods are constantly improving. The pace of capital construction is getting bigger and bigger.
After the national "One Belt, One Road" strategy was put forward, Yiwu seized the historical opportunity, relied on the advantages of small commodity trade, and relied on the pilot reform of the comprehensive national trade, set up a bonded logistics center, built an international mail exchange bureau and exchange station, and advanced Yixin The normal operation of the Eurail, and efforts to create important areas and fulcrum cities for international trade on the Silk Road Economic Belt, have achieved positive and obvious results.
The founder of Zhuang Shuai E-commerce Channel, Zhuang Shuai, has more than 100,000 followers on WeChat subscriptions. The e-commerce expert told the Chinese Yiwu author that Yiwu is famous worldwide not only because of the "big" market, but also because There are many products and all products in Yiwu, but Yiwu still needs to continue to deeply cultivate the international market, build and improve supporting platforms and services, and promote industrialization so that it can always maintain competitiveness in international trade. On the other hand, the status of Yiwu 's "Belt and Road" strategic fulcrum cities has continued to highlight, and to a certain extent, it has broken the limits of the international market's understanding of the Chinese market. At the same time, frequent trade exchanges have also driven the manufacturing industries of the countries along the "Belt and Road" Level, opened up channels for the Chinese market to establish itself internationally, and set an example.
---
Post time: Mar-05-2020